From the Principal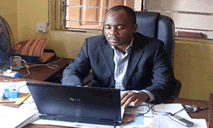 As the pioneer Principal of the Lekki Tutorial College and later Lekki Peninsula College, I have been part of the noble and selfless vision of the proprietors. We have come a long way since 1999 when the school first transformed into a full fledged private secondary school. The school is already approved by the State Government and we have become one of the few approved centers for all secondary school external examinations.
We have endeared ourselves to the parents and wards of our students through our high moral standards, our academic records and our close rapport with them. We have continued to be innovative, especially in creating a closer rapport between the school management and parents because we see the future and overall well being of our students as a joint commitment. In this regard we send delegation of staff to visit our parents periodically for one-on-one discussions about their wards who are under our care.
I take great pride in our high academic records and the caliber of our staff and the fact that we have continued to remain the most affordable institution in the Lekki area with the kind of facilities that we offer. The Management has remained steadfast in its vision to see that deserving but indigent students are assisted to complete their secondary education through our scholarship scheme and fee concession policy.
Our computer training program provides computer literacy and specialized diploma computer classes. Our summer school has over the years ensured that students make the most productive use of the long holiday period.
We are however not resting on our oars as we are constantly working to improve our already impressive performance so far.