From the Proprietors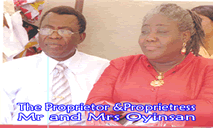 Lekki Peninsula College started out as Lekki Tutorial College. Lekki Tutorial College started running classes in the evenings for students whose families had been displaced as a result of a military government action which demolished Maroko. Maroko, which was considered a shanty town, was razed to the ground in July 1990, by Col. Raji Rasaki, the then military governor of Lagos State.
As a result of the demolition, there was a spillage of people who were left homeless, most of whom had also lost their livelihood. This population spilled into the Lekki Peninsula areas like Jakande and Ikota Estates and villages in around Ajah, which at the time had very few government schools and no private schools. This population however included hundreds of youths whose academic careers became highly threatened. This was the primary cause of our intervention.
Lekki Tutorial College started providing leadership training, mentoring, educational and skill acquisition programs including lessons in literacy and numeracy, as well as lessons to prepare students for the West African School Certificate Exam (WASCE), the Joint Admission and Matriculation Exam (JAMBE) in the evening. As the population grew and parents in the area saw the benefits provided, services were increased to full formal schooling with minimal fees on easy term payments (students were allowed to pay monthly or weekly). The institution became the pioneer private secondary school of its kind in the area.
Over the years Lekki Peninsula College (LPC) as it became re-christened has grown to accommodate the demands and expectations of the rising population. It has also continued to strive to maintain its leadership role in the face of the competition that has evolved with the establishment of many more institutions in the Lekki area. It has become fully approved by the Lagos State Government and provides full secondary school education at both the junior and senior secondary levels. The school has over the years also acquired all the necessary government approvals and is fully approved for all national and state external examinations such as WAEC SSCE, NECO JSCE, NECO SSCE, JSCE etc.
Most importantly, we have retained our original vision of giving every child a chance through the school's scholarship awards and fee concessions to deserving students.